Things to do in Batemans Bay
There's no better way to have a great day than to get out there and enjoy the natural beauty the south coast has to offer:
Fishing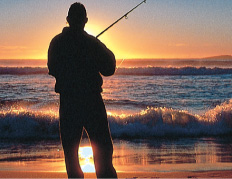 Rock, beach, river or ocean fishing…it's all here; some top spots to investigate:
A recommended spot for beach fishing is 25km south of surf beach at moruya airport; fish right off the beach at the end of the runway. This is a very long beach so try a few spots. Off the rock wall is also very popular and typically yields good results. If you have a mid to large boat, between Snapper Island and the Tollgate Islands have proven to be good to us in the past. About a third to half way between these two islands are very good flathead grounds. Further up the coast off Durras have proven to be good snapper and morwong grounds.
For small children an ideal spot is in the centre of Batemans Bay, under the bridge or off the wharfs. should follow directly and decent fish to be caught…just enough action with all the conveniences of town (in case the little people need a break). Batemans Bay is also world reknown for medium tackle game fishing, producing some of the worlds best Striped Marlin and Tuna.
Snorkeling and Scuba Diving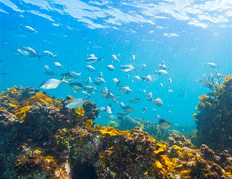 Just about everywhere you look is an underwater paradise; an unforgettable Eurobodalla coast attraction. The best thing about snorkeling and scuba here is that everything is so accessible. Our favourite snorkeling site/shore dive is at Guerilla Bay (4kms away). As part of the protected Batemans Marine Park, Guerilla Bay offers one of the best snorkeling experiences around with rock walls, eels, stingrays, nudibranchs and many fish varieties easily accessible. There are too many other top South Coast snorkeling spots to list here.
Having been keen scuba divers, we have dived most of the popular spots around the region. Black rock which is a short boat trip from Surf Beach is a top boat dive in about 12m to 15ms of water and offers plenty of marine life amongst an interesting reef structure. Features of Black rock include: the chimney, the arch, and the bubble cave. Burrewarra Point (8kms from Surf Beach) is exceptional diving in abut 33m of water, classed a deep dive. The vertical wall in deep water attracts pelagic fish of all descriptions and other marine life, Gregorian fans and Groper.
Surfing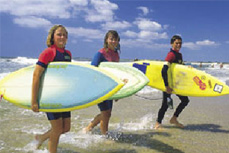 For the general surfer, the south coast has an abundance of gentle breaks that can be surfed by any surfer. Remember that the best fun can be had on the smallest wave. Here's some of the south coast's most popular surf spots:
Surf Beach is the first real ocean beach as you head south out of Batemans Bay and offers a gentle wave that is ideal for beginners to intermediate surfers. The beach falls away gradually and evenly which allows children to gain confidence in the water. Surf the Bay and Soulrider offer beginner surfing lessons here.
Malua Bay typically provides a powerful ocean break on sand and can get rips and dumpers. Can be dangerous at times but if it breaks well, you will have a top surf.
MacKenzies beach is shaped so that the waves funnel in and compress to become a very powerful and thick wave when the swell runs in. Usually a left hander off the northern rocks.
South Rosedale can be a small, gentle to large powerful wave with rips and channels. This is a nice secluded beach that is popular for surfers.
Broulee South can handle large swells up to 12 foot and more however most of the time there is a gentle 3-4 ft wave. Broulee is a very long beach and even though most surfers head to the northern corner of the beach (in front of the surf club), there are good waves to be found right along the beach. In front of South Broulee is Broulee island. Out on the extremity and to the north of Broulee island is a hot reef break called Pink Rocks. It only breaks with bigger swells but the break is very heavy and it barrels. It is for experienced surfers only.
Moruya Wall is very popular in medium swells. It pitches and barrels with a quite heavy powerful wave. It has a strong rip next to the wall which takes you back to the break. Very heavy impact zone.
Congo/Bingi offers pristine uncrowded beach breaks. Beautiful clean sand waves which can be powerful tubing waves and is well worth the drive 35kms south of Surf Beach.
North of your Batemans Bay accommodation, breaks at North & South Durras are popular. South Durras beach, the best breaks are in front of the lake. North Durras offers many top reef breaks (incl. Bumholes, Stones, Depot Beach Boat Ramp, and No Swells) and should be surfed with caution. When conditions are real big the pro's come down and get pulled in with jet skis out on the Bommbora off Durras.
Bush Walking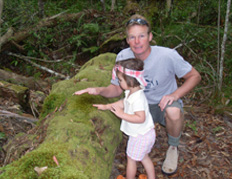 A wide diversity of walks are available in the region from flat walks to heart pounding climbs up mountains. You can quickly get to one of the best short walks around right at Surf Beach. Walking out your door, head to Surf Beach and then south around the rocks to Wimbie Beach to a stoney track that leads out to a rocky headland (Diver's Point). From here you go up over the saddle and up onto the headland where you can follow the coast for approx. 2kms all the way to Mosquito Bay. You are very close to the cliff edge and have commanding views out to the ocean.
Another lovely short walk close to Batemans Bay is the Cullendulla Creek Nature Reserve (2kms north at Surfside). Follow a boardwalk and then the beach to come to another boardwalk out into the mangroves. The tides and ecosystem of the mangroves is interesting; look out for stingrays, skates, hermit crabs, mullet etc..
Further afield to the Northwest is Morton National Park and the popular Pigoen House mountain trail and the Castle (see day trip section). Also to the north but on the coast is Murramarang National Park which is a bushwalker's paradise. Walks at Murramurrang are many and varied, to suggest a few;
Depot Beach rainforest walk. 400m loop. Easy
Pretty Beach to Snapper Point 500m each way. Easy.
Depot Beach headland walk. 1km each way medium.
Durras discovery trail. 1.5 loop. Easy
Rock platform walk. Depot beach. 2km loop. Medium.
To the south west is Deua National park with great spots like Tuross Falls, Bendithera and Hanging Mountain.
Mountain Biking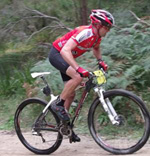 You don't have to ride far to get to good single tracks. You can ride along the cliff tops from Surf Beach to Mosquito Bay and further on down to Barlings Beach (Tomakin). From jumps to mountain trails to gentle forest tracks or fire trails, our state forests have got it all, as tracks undulate through beautiful bush country.
Kayaking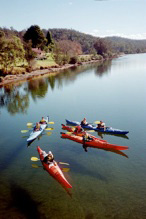 Kayaking is a great way to spend your time in Batemans Bay. From safe sheltered inlets and rivers to the wide blue ocean there's no better way to feel connected to the water. Do it yourself and hire a kayak from Mossy Point (20kms south) or take a fully guided tour from a professional operator.
Golf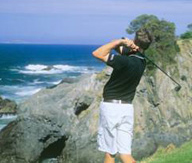 There is plenty of choice for the golfer of every ability. The Catalina Country Club offers 27 holes of championship level golf in a natural bush setting. You are able to play a social round at anytime. Moruya Golf club, Narooma Golf Club, Mollymook Golf Club with The Hilltop and Beachside courses are all a comfortable drive away, but you will need to check competition days as social play will be limited.
Good Day Trips
There are so many great ways to spend your day on the nature coast; it's a challenge to pick a few. We love to do these trips over and over again so here's our shortlist:
Mogo (12kms south of Surf Beach)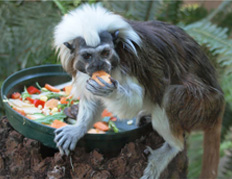 The award winning Mogo zoo is a 'must do'. The great thing about this zoo is that you can get right up close to all of the animals. You can almost touch beautiful, powerful lions and tigers they are so close; quite a thrill. There are many unique species of endangered animals that are not at larger zoos such as tiny tamarin monkeys, meerkats, red pandas, tapirs and many more. Mogo Zoo is also reknown for their breeding programs and have successfully bred: white lions, Sumatran Tiger cubs, a Rothschild giraffe, a Silvery Gibbon amongst others.
While at Mogo, step back in time to the 1850's and pan for gold at the Goldrush Theme Park, or stroll along the streets of Mogo village with its 19th century architecture and cottage industries, handcrafts, galleries and restaurants.
Murramurrang National Park (14kms to the north of Batemans Bay)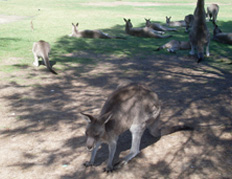 Beautiful spotted gum forests grow right to the sea with a dramatic coastline to explore in Murramurrang National Park. You can bushwalk to great spots; beaches, up mountains, through rain forest, around the lake, out onto the rock platforms, or just out to the headlands to take in the views. Nature abounds as you see colourful native birds, goannas, maybe an echidna but definitely heaps of kangaroos and wallabies.
A nice day out is the drive into South Durras and follow the dirt road all the way out to the northern headland to Batemans bay (Northhead). Take the time to get out of your car and walk down to as many beaches as you can. Each beach is totally different.
At the end of your trip is North head with a great beach and lookouts with views up and down the coast. Most locals have never done this trip, so get out there and really make the most of your stay.
Another great trip is to walk up Durras Mountain. 14km from Batemans Bay turn right into Mt Agony Rd, follow 8 km to Pebbly Beach campground carpark.The walk is 7.5km round trip. 3.5hrs.Grade moderate to difficult. At the top there is always a lazy kangaroo enjoying the sunshine and 360 degree views, with keyhole views to Montague Island and Pigeon House Mountain.
Morton and Budawang National Parks (1 hr north of Batemans Bay)
If you want to do something that you will remember for the rest of your life, read on. The mountain ranges behind Batemans Bay are wild and rugged and are beautiful beyond your wildest dreams.
Pigeon House Mountain – Named by Captain Cook in 1770, this day trip is a 1 hr drive from your Batemans Bay apartment and is the most popular walk in the region. The walk is 5km return and takes 4hrs; rising 720m above sea level. It can be climbed safely by the reasonably fit. At the top there are magnificent views of the Buddawangs, the Clyde river Valley, beaches and the Pacific Ocean. The first 1 km is the hardest so don't give up as the views are worth it ! For the more experienced there are other great walks in the Buddawangs including, The Castle, Shrouded Gods Mountain and Byangee walls. Remember when planning your bushwalk adventure you take enough water, food, maps, sun protection and let someone know of your itinery
Narooma & surrounds (45mins drive south of Surf Beach)
From your Batemans Bay accommodation, travel south along the Princess Highway to Dalmeny. For a direct route continue along the highway to Narooma. For a scenic route, turn off at Dalmeny at Tourist drive 5 which meanders along the coast visiting lovely bays and ending up at the boat ramp at Narooma river. Here is a great picnic area, a rock wall for safe ocean fishing and a small beach. In the same area is a short elevated boardwalk (stroller friendly) over the edge of the river along the mangroves. Also in Narooma, on the southern side of the river is the town wharf. From here you can catch a cruise out to Montague Island to see the seal colonies, or a fishing, scuba or whale watching charter. It is a great spot to inspect the fishing catches or just watch the stingrays cruising around the wharf.
Just past Narooma is the small village of Tilba where you can watch local artisans (jewelers, glass makers, leatherwork etc) practice their art. Tilba is also the home of Fox Glove Spires; featuring a charming and tranquil English style garden with an unforgettable arboretum. As you head back along the Princess Highway to Surf Beach, there is an unsealed tourist drive into the forest behind Wagonga Inlet, offering stunning views of the inlet and a short rainforest walk. You would never believe that such pristine rainforest could be found so easily in our region.
Moruya (25mins south of Surf Beach)
On the way to Moruya, as you head south along Beach Rd., you will pass some lovely beaches…Malua Bay, Guerilla Bay, Rosedale, Broulee to name a few. All are worth a look. Also very picturesque is Moruya Wall; a rock wall the stretches out into the ocean that is popular with surfers and fishermen (turn left at Moruya Airport to get here). Continue on following the river to Moruya; a little country town with real community spirit. A good time to visit Moruya is Saturday morning as there are country markets every week. Enjoy the fresh local produce that this region has to offer.
Batemans Bay Events
Batemans Bay is home to many popular events including:
George Bass Marathon (January)
This long time running Surf boat rowing event from Batemans Bay to Eden covers a distance of 120km. Crew changes every 20 mins and row for 4hrs a day for 7 days. The start of the race provides a thrilling spectacle.
Trithebay triathlon (March)
There are a number of different course lengths from the Enticer(300m swim, 8km ride, 2km run) through to Olympic distance. There are also ocean swims, fun runs and kids competitions so everyone can get involved.
Batemans Bay Annual Yellowfin Fishing Competition (June)
The first and biggest game fishing event over 2 days in early June for men women and children with the aim of serious fishing, tall tales of the one that got away and loads of enjoyment.
Angry Doctor Enduro mountain bike race (September)
This extremely popular event is held in the Mogo State forest offers some of the best single track riding in Australia. Test your skill and stamina in the 100km Angry Doctor, 50km Irate Intern or 11km Nasty Nurse races.
Great Southern Blues Feastival (October Long Weekend)
"Four nights and three days of cool rhythms and rockin blues.." Each year over 50 performances thrill music lovers young and old. Past performers include the John Butler Trio and Daddy Cool.
PGA National Futures Golf Championship (October)
This exiting display of golf brings talented trainees from all around Australia and abroad before they become professionals. It is held over 4 days in late October and has seen stars such as Rod Pampling, Peter Lonard and Nick O'Hern contest it in past years.
The South Coast Caravan Camping & Holiday Expo (November)
Exhibiting, caravans, motorhomes, campertrailers, slideons, 5th wheelers, camp equipment and accessories. Presenters come from near and far (Queensland & WA).
Bells Carnival (Xmas & January)
A night out at the fair is a great way to end the year or ring in the new one. Held at Corrigan's beach every year with rides, games, and fun for everyone. Fireworks here on New Year's eve.